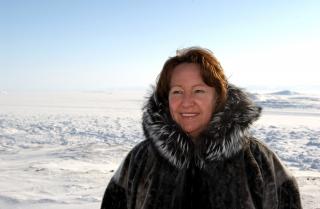 IsumaTV will be streaming Silla Watt-Cloutier's speech live from Iqaluit on Inuit Knowledge, Human Rights and Climate Change at the 9th annual LaFontaine-Baldwin Symposium.
The speech will be streamed live from 7:45pm-10pm EST at
http://www.isuma.tv/hi/en
The LaFontaine-Baldwin symposium, founded by John Ralston Saul in 2000, is one of the "most prominent lecture series on issues concerning the public good in Canada." For the first time in history the lecture series will be held in Canada's North with Silla Watt-Cloutier. Watt-Cloutier is an Inuit climate activist and 2007 Nobel Peace Prize nominee. Siila Watt-Cloutier has worked on a range of social and environmental issues affecting the Inuit, and has most recently focused on persistent organic pollutants and global climate change.