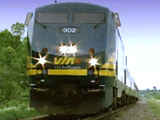 So I began to investigate this morning how exactly I was going to travel from Toronto to Ottawa for the expected to be epic Powershift Conference from October 23-26.
For those who don't know, Powershift will be a gathering of over 1000 Canadian youth in Ottawa that will not only include two days of training, strategy and action to hold elected officials accountable to solve the climate crisis, but will also include a massive lobby day to demand immediate federal climate action. (Also, yours truly will be running a workshop!)
But back to the original question, I discovered that by signing up for VIA Rail's newsletter, I got a coupon for a 40% discount off travel, that expires TODAY. This makes the Toronto to Ottawa trip approximately $100. With comfortable seating and wireless, I'm tempted. The frugalista in mean is always left with the question, especially since I'm booking one month in advance - can I do better?