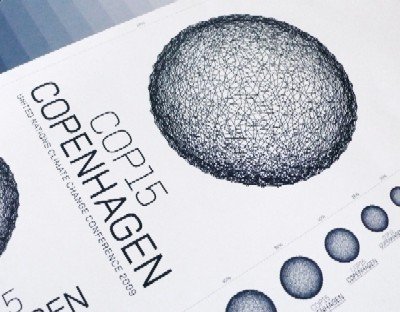 After months of planning the United Nations Climate Change Conference is set to kick off tomorrow in Copenhagen, and from the "welcome COP15 delegates" that the pilot announces as the plane touches the tarmac at the airport, to the dozens of massive billboards of companies touting their support for the negotiations, it's obvious Copenhagen is a city transformed. Though the nearly 20,000 delegates flying into the city this weekend will no doubt provide a massive boost to the local economy, the intense interest in the conference worldwide has already started to show strains.
On Sunday, line-ups to get official accreditation badges were already circling outside the conference centre, with a multi-hour wait expected for those looking to receive their badges the morning that the conference starts. Even those who made it to the head of the line today had to wait an additional hour or so, as conference organizers scrambled to confirm the list of accredited names for the various negotiators, civil society members, and members of the press, receiving far more names that they could process into the their systems at the time.
There have also been reports circulating that the conference have accredited more people that the actual conference centre holds safely, and will be cutting off delegates from entering the conference centre for the opening ceremonies tomorrow once the limit is reached – and Obama is not even arriving until next week.
No other UN negotiation conference has seen mayhem that it will (or will) experience in the next two weeks. Let's just hope the city, and the conference organizers and delegates, can survive it.

Jasmeet will be blogging and tweeting the UN Climate Change negotiations in Copenhagen from Dec. 7-18 for the Star. Follow her tweets at twitter.com/jasmeetsidhu